What is this thing?
Books We Love is NPR's interactive reading guide. In the past, it's been a year-end guide we put out annually. But this year, we've decided to offer it in summer and winter! So this summer edition of Books We Love focuses on books published in the first six months of the year, from January through June 2022. But what hasn't changed is the bounty of hand-picked books. Mix and match tags such as Book Club Ideas, Biography & Memoir or Eye-Opening Reads to filter results and find the book that's perfect for you or someone you love.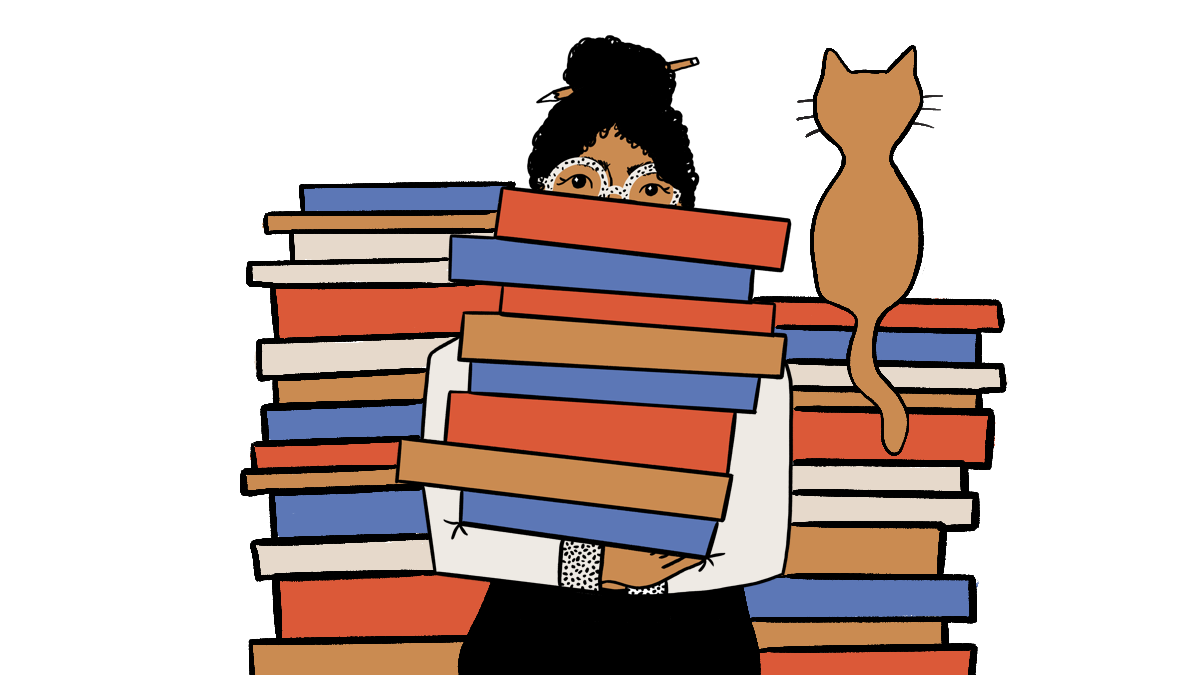 Chelsea Conrad/NPR
How are the books selected?
We reached out to our staffers and trusted critics and asked them to nominate their favorite books from the first half of 2022. They responded with hundreds of titles. Then, the editors and producers at NPR Books sat down with a huge spreadsheet of responses; we resolved duplications, noted omissions, considered the overall mix and balance of books recommended and then made assignments.
Why isn't this just a list?
Back in 2013, the NPR Books staff was suffering from an acute case of list fatigue. So we teamed up with our friends at NPR News Apps and started to think about a site that would be more Venn diagram-y than list-y – a site that could help you seek out the best biographies that were also love stories, or the best mysteries that were also set in the past. We wholeheartedly believe that human beings are capable of absorbing new information in formats that are 1) not sequentially ordered and 2) wait … dammit! and 3) never mind.
But no, really, I just want to see a list of books
We got you. To view these books as a list of titles rather than as an array of covers, you are welcome to select the "List" option in the upper right-hand corner of the site.
So what's the deal with these tags?
At NPR Books, we're all about discovery: helping you find your next great read – the mystery you can't put down, the memoir you recommend to all your friends. In 2013, we hashed out a basic taxonomy that was both functional (e.g., Biography & Memoir or Kids' Books) and fun (e.g., It's All Geek To Me and Let's Talk About Sex). Over the years, we've refined our filters and added new tags, like The States We're In and No Biz Like Show Biz.
The names are cute, but what do they mean?
The States We're In is for stories of the American experience both true and fictional. It's All Geek To Me is for deep dives on particular topics – trees, personality tests, tiny houses, you name it. In The Dark Side, you'll find dystopias, serial killers, true crime and people behaving badly in general. Eye-Opening Reads will give you a new perspective on the topic at hand, whether it's the state of philanthropy or a new pair of shoes.
How do the books get tagged?
Our critics and staffers make suggestions, but to ensure we are applying tags consistently, the producers and editors at NPR Books consider and discuss every tag on every book.
That must take a very long time
YUP.
Can I look under the hood?
If you want to know more about how Books We Love was designed and coded, you can read about the process here. And if you're curious to see the code and adapt it for your own project, you can check it out here.
If I click on the links and purchase one of the books, does that purchase help NPR?
Yes. And you can read more about how that works here.
So, dive into Books We Love! We hope you find something wonderful to read today.
The 2022 Books We Love Team: Natalie Escobar, Maureen Pao and Meghan Collins Sullivan
Project Credits
This edition of Books We Love was published on June 30, 2022.
Produced and edited by Maureen Pao, Natalie Escobar and Meghan Collins Sullivan.
Production assistance provided by Maison Tran.
Design and development by Alyson Hurt and Koko Nakajima.
Copy-edited by Preeti Aroon and Pam Webster
Branding work by Chelsea Conrad, Kristin Hume, Mina Tavakoli and Wanyu Zhang
Previous editions of Books We Love: Annette Elizabeth Allen, Preeti Aroon, Jeremy Bowers, Tayla Burney, Nicole Cohen, Patricia Cole, Danny DeBelius, Camila Domonoske, Beth Donovan, David Eads, Juan Elosua, Jess Eng, Natalie Escobar, Rose Friedman, Alice Goldfarb, Christopher Groskopf, Geoff Hing, Clinton King, Becky Lettenberger, Megan Lim, Wes Lindamood, Petra Mayer, Amy Morgan, Duy Nguyen, Beth Novey, Katie Park, Ashley Pointer, Christina Rees, Arielle Retting, Ellen Silva, Meghan Collins Sullivan, Ruth Talbot, Shelly Tan, Pam Webster, Glen Weldon, Thomas Wilburn, Matthew Zhang
Icons by Font Awesome